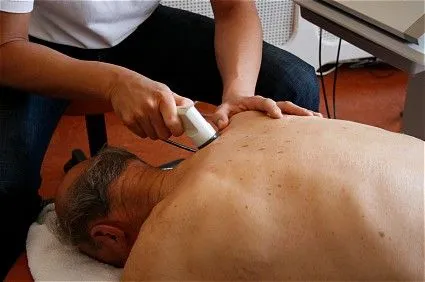 Electrical Muscle Stimulation

Electrical Muscle Stimulation is an exceptional way to help the body in the healing process. This is accomplished by sending a very small electrical current into the affected soft tissue injury or muscle spasm. The therapy utilizes this current in an effort to help reduce swelling and release trigger points that may have the muscle locked up. It does this by helping the body to release natural relievers of pain often referred to as endorphins.
This is a great therapy if there is a spasm in a back or neck muscle. It works well in relaxing the muscle and allowing it to return to its normal state rather quickly. Short therapy sessions are excellent at facilitating healing from acute and chronic pain.
Ask Us About Electrical Muscle Stimulation Today!
Interferential Electro-Therapy
Inferential Electro-Therapy is an excellent method of helping the body deal with spasms, sprains, and issues related to soft tissues. This therapy accomplishes this with a very low simulated frequency that is put on the soft tissue. The feeling of this therapy is very light and most patients feel very comfortable during the treatment.
In addition to this therapy simulating the body's natural healing method by helping it to produce natural pain killing endorphins, it also helps with the release of these strains, spasms and soft tissue issues.
Ultrasound -
Ultrasound is a therapy that is utilized in the office to handle injuries related to joints, muscle spasms, as well as most soft tissues. While it shares the same name, this ultrasound is not the same as the type of ultrasound utilized diagnostically to screen internally in the body. This ultrasound creates small sound waves that in effect vibrate and massage soft tissues and muscle. These sound waves do an excellent job in facilitating the body's healing process in addition to decreasing scar tissue formation.
Certain ultrasounds also create a heating effect to help relax the muscles or tightness in the body. This heat combined with the overall features of the ultrasound help to start the healing process at the most basic cellular level speeding up your road to recovery.
Cryotherapy


Cryotherapy is an excellent way to help with muscle spasms in the body. This therapy is well known to help numb painful areas as well as provide a cooling relief to affected soft tissues. The therapy consists of applying cold compresses on to the skin to effectively reduce the temperature of the skin as well as constrict the blood vessels in the area.
If you are suffering from a muscle spasm or just recently had a soft tissue injury, cryotherapy is an excellent way to help reduce swelling and further injury in the early stages of your healing process. This therapy is rather inexpensive and is something that can be done at home as well as in the office.

Patients Benefits: Helps reduce swelling and inflammation, Numbs affected area to reduce pain, Reduces muscle spasms and is inexpensive and can be self-applied.